Home
Online Casino Real Money
World Poker Tour
Season 8 Reports
WPT Archives
2010 World Series of Poker
WSOP Archives
Poker on TV



Bay 101 Shooting Star Championship WPT Season 8
Bellagio Cup V | Legends of Poker | Borgata Poker Open | Festa Al Lago
Foxwoods World Poker Finals | Doyle Brunson Five Diamond World Poker Classic
Beau Rivage Championships L.A. Poker Classic Bay 101 Shootout Star Championship
Hollywood Poker Open World Poker Tour Championships
Bay 101 Shooting Star Championship
Bay 101 San Jose, California
March 8 to 12, 2010

Links to player bios courtesy of Full Tilt Poker
Day 1A and 1B
In total there were 333 entrants who paid the $10 grand entry fee, helping to create a $3,163,500 prize pool going to the top 36. Seen in the field were Erick Lindgren, Carlos Mortensen, Sorel Mizzi, Scotty Nguyen, Bertrand Grospellier, T.J. Cloutier, Greg Mueller, Mike Matusow, Daniel Negreanu, J.C. Tran, Phil Laak, Phil Hellmuth, Mike Sexton, Jerry Yang, Chau Giang and the defending champion Steve Brechter.

One of the fun things about this "shootout" is the bouties on 50 $5,000 bounties on the heads of really tough poker players. If anyone having a bounty is taken out, then that player receives the cash. Many times a single player has taken out a few bounties, which more than paid the entry fee to the WPT tournament. Here are the payouts for the final table:
$878,500
$521,200
$292,800
$234,300
$175,700
$117,000
Lots of bustouts took place with top pros leaving the tables in quick fashion. Names like Allen Cunningham, Annie Duke, John Juanda, Paul Wasicka, J.J. Liu, Kathy Liebert, Antonio Esfandiari, Chris Ferguson, Daniel Alaei, Tood Brunson, Jennifer Harman and Brock Parker. Once the dust settled, there were 126 that will move on to Day 2. Here are the top 6 with chip counts:
Vanna Tea -- 143,900
Greg Mueller -- 132,800
Eugene Katchalov -- 131,500
Tim McDermott -- 118,100
Grant Hillman -- 115,100
David Ssands -- 106,900
Day 2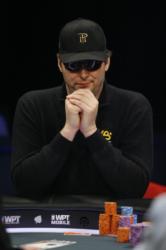 After 11 hours of play, the 126 fell to just 27 survivors. All tables in this tournament will be played six handed from this point on until a final table is six is reached. Some of the incredible busts include Mike Sexton, Phil Laak, Freddy Deeb, Barry Greenstein, Howard Lederer, Joe Cassidy, Daniel Negreanu, J.C. Tran, Greg Mueller, Jerry Yang and defending champ Steve Brecher.

It has been open season for the bounties as 49 of them have been eliminated and only Phil Hellmuth Jr. is left. A few who made the cut for the next round include Chau Giang with 307,500, John Cernuto, Scotty Nguyen, Jonathan Little and Brian Rast with 332,500 chips.
Phil Hellmuth Jr. -- 530,000
Hasan Habib -- 496,000
Andy Seth -- 453,000
Dan O'Brian -- 439,000
Matt Keikoan -- 426,500
Nick Schulman -- 381,500
Day 3
Normally, these shootouts move very quickly, but this one began at 11:00 AM PST and ended just before 2:00 AM the next day. After Scotty Nguyen was eliminated in 8th place, the last 7 got together and went through 44 hands to have the last bust to ready the 6 for the televised final table.

This competition will have Phil Hellmuth at his 5th WPT final table, being 2nd in chips. Hasan Habib and Matt Keiloan although short stacked can add an unpredictable wild card factor to the action.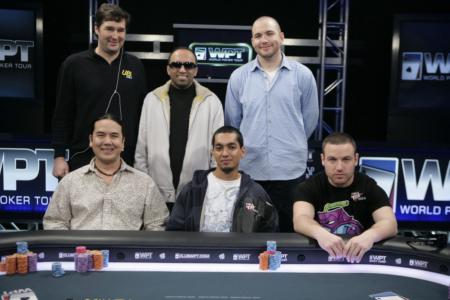 From Left to Right, Top to Bottom:
Phil Hellmuth Jr., Hasan Habib, McLean Karr, Matt Keikoan, Andy Seth, Dan O'Brian
Andy Seth -- 2,164,000
Phil Hellmuth Jr. -- 1,433,000
Dan O'Brian -- 1,129,000
McLean Karr -- 1,112,000
Hasan Habib -- 455,000
Matt Keikoan -- 371,000
Final Table
Once things got underway, the unexpected began to happen. In 6th place was Phil Hellmuth who was very active in the beginning but lost lots of chips. On the elimination hand, he moved all-in with pocket Q's and was called by Andy Seth holding A J. Hellmuth was in control...until the river gave Seth an Ace to vanquish a legend. Matt Keikoan picked up the cash for 5th after making a lower flush than Andy Seth on the same hand. Hasan Habib finished in 4th when he moved all-in after a flop of Jc 2c 2h, and was called by McLean Karr. Karr brandished 4 2 and Habib revealed K 10 of clubs giving him a flush draw. The turn and river cards were Js 4c which gave Karr a full house (2's/4's). Daniel O'Brien was stopped in 3rd when the pocket 7's of Seth held up to the river.

When the heads up began, Andy Seth had 1,785,000 in front of him and McLean Karr had 4,880,000 on his side of the table. At one point Seth doubled up, but lost the advantage as play continued. The final hand had Seth move all-in preflop with pocket 4's and Karr called with pocket 8's. The board helped neither player and after the river card was dealt, the newest WPT champion was to be named McLean Karr.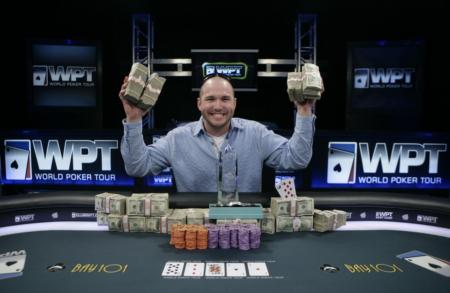 WPT Bay 101 Champion McLean Karr
McLean Karr -- $878,500
Andy Seth -- $521,200
Daniel O'Brien -- $292,800
Hasan Habib -- $234,300
Matt Keikoan -- $175,700
Phil Hellmuth -- $117,000