Home
Online Casino Real Money
World Poker Tour
WPT Archives
2010 World Series of Poker


World Poker Tour Championships 2010
WPT Season 8
Bellagio Cup V | Legends of Poker | Borgata Poker Open | Festa Al Lago
Foxwoods World Poker Finals | Doyle Brunson Five Diamond World Poker Classic
Beau Rivage Championships | L.A. Poker Classic | Bay 101 Shootout Star Championship
Hollywood Poker Open | World Poker Tour Championships
Bellagio Hotel and Casino
Las Vegas, Nevada
April 17 -24, 2010
Day 1
There were a total of 161 players at the tables, which is a huge drop from the 2009 total of 338. What is hoped is that late registration will help to raise that number over 200. Yevgeniv Timoshenko is also in the mix to defend his title. Starting chip count was 100,000 per player. In the field were Tommy Vedes, Beth Shak, Phil Ivey, Prahlad Friedman, Russell Rosenblum, Kyle Bowker, Amit Makhija, Robert Mizrachi, David Chiu, David "Devilfish" Ulliott, Juan Carlos Mortensen, Nikolay Evdakov, John Juanda, Steve Billirakis, Kathy Liebert, Bruno Fitoussi, David Singer, Lee Markholt, Daniel Negreanu, Scotty Nguyen, Jennifer Harman, Josh Arieh, James Bechtel, Sorel Mizzi, Scotty Nguyen, Steve Brecher, Hasan Habib, Gavin Smith, Alexandre Gomes and Paul Wasicka.

Busted on the first day were Antonio Esfandiari, Jeff Shulman, Kevin Saul and Annette Obrastad. The second day for registration will begin on Monday at 12 noon and will be extended until 5 PM. The end of day 1 had 138 players that survived.
SHAWN BUCHANAN 388,600
BRIAN LEMKE 298,825
DAVID BENYAMINE 291,275
YEVGENIY TIMOSHENKO 277,375
SOHEIL SHAMSEDDIN 244,000
CHRISTOPHER MOORE 243,700
Day 2
In all Day 2 saw a few more players enter, making the final player count 195. Total prize pool vaulted upward to $4,728,750 which will go to the top 18 finishers. And the champion will also receive a $25,500 Seat to WPT Championship in 2011. This raises the payout schedule substatially. Here are the payouts for the final table:
$1,530,537 and a $25,500 Seat to WPT Championship in 2011
$1,034,715
$587,906
$329,228
$246,921
$199,888
Day two casualties include Chris Ferguson, Daniel Alaei, Andy Bloch and Tom Dwan.

Still remaining in the field to see Day 3 are David Williams with 363,300 chips, Nikolay Evdakov 322,700, Yevgeniy Timonshenko 279,400, Dwyte Pilgrim 257,000, Carlos Mortensen 261,000, Billy Baxter 249,000, Phil Hellmuth 199,100, Eric Froehlich 183,000, James Mackey 182,900, Jimmy Tran 172,100, Josh Arieh 165,400 and John Juanda 87,900. On the short stack are Kathy Liebert 21,100, Erik Seidel 39,000 and Howard Lederer 32,700. So Day 3 will see 138 from the first day and 57 from the second, making a total of 195 players. Last year had 338 entrants. (Pretty disappointing as this is the lowest since the WPT held their first championship with 111 players!) Here are the top 6 for day 2:
FARAZ JAKA -- 597,100
SHAWN BUCHANAN -- 596,600
JUSTIN BONOMO -- 503,600
JOSHUA GOULD -- 502,900
BRANDON CANTU -- 489,000
TODD TERRY -- 475,600
Day 3
The 98 survivors from Day 2 began play at 1,200/2,400 and a 300 ante with the average chip stack at 199,000. Goal was to complete another 5 rounds of action here at the Bellagio. And when it was done, there were only 35 in the field with 4 days of competition to go. But the players in the game are still top notch, such as defending champ Yevgeniy Timonshenko with 350,000 chips in front of him. Carlos Mortensen who won in 2007 will see the next round with 586,000 chips. Added to the mix are Phil Hellmuth with 807,000, Scotty Nguyen 569,500, David Williams 757,000, David Benyamine 731,000, Joanne Liu 495,000, David Ulliott with 310,000 and Josh Arieh short stacked with 115,500.
SHAWN BUCHANAN -- 1,841,500
HEATHER MERCER -- 1,364,500
ROBERT COOPER -- 937,000
MATTHEW STOUT -- 919,500
BILLY BAXTER -- 887,500
FARAZ JAKA -- 852,000
Day 4
On day 3 there were just two players with over 1 million in chips. That changed greatly on Day 4. The 35 who began the day fell to just 18 who will see cash for their efforts. But those still in the game are powerhouses like Scotty Nguyen with 941,800 chips, Eric Baldwin with 880,000, J.J. Liu having 674,000 chips, Cliff Josephy 458,000 chips, Jason Lester 421,000 chips and Josh Arieh having 303,000 in his corner.

Dan Smith was sent to the rail early in the day courtesy of the pocket A's of David Williams that held up to the river. James Gunther moved all-in with Q J offsuit, only to be called by the A 7 of Tony Cousineau who received another A 7 on the flop allowing him to win the hand. Kyle Bowker also met with disapointment when his all-in move with pocket 10's were stopped by the paired Queens of Faraz Jaka. David Williams also ended David "Devilfish" Ulliott's chances when Ulliott risked it all on A Q and was called by the A K suited of Williams. By the time the river card was dealt, the King kicker allowed Williams to take 1.4 million in chips to his side of the table. Carlos Mortensen met with misfortune after he pushed all in with pocket 10's on a table of A 4 2 10 7. Eric Baldwin called with pocket A's which turned into a set, dominating the hand and sending Mortensen to the stands.

The 18 remaining will continue tomorrow at noon, continuing at level 20 with blinds at $10,000/$20,000 and a $3,000 ante.
Faraz Jaka -- 3,117,000
David Benyamine -- 2,350,000
David Williams -- 2,072,000
Billy Baxter -- 1,630,000
Nikolay Evdakov -- 1,426,000
Phil Hellmuth -- 1,377,000
Day 5
We are now down to just 10 players. When Day 6 play continues, it will be with blinds at $15,000/$30,000 and an ante of $4,000. Gone are Tony Cousineau in 18th earning $47,033, Matt Stout in 17th pocketing $47,033, Josh Areih in 16th with $47,033, Robert Cooper in 15th with $51,736, Faraz Jaka in 14th taking home $51,736, J.J. Liu in 13th cashing at $51,736, Jason Lester in 12th with $56,439 and Olivier Busquet in 11th earning $56,439 for his efforts. Here are the top 6 with chip counts going into Day 6:
John O'Shea -- 3,174,000
Scotty Nguyen -- 2,637,000
David Benyamine -- 2,561,000
David Williams -- 2,454,000
Billy Baxter -- 2,429,000
Eric Baldwin -- 2,130,000
Day 6
The field has been narrowed from the 10 on Day 5 to the WPT final table of 6. Gone from contention are Cliff Josephy in 10th taking home $56,439, Nikolay Evdakov in 9th earning $75,252, Scotty Nguyen in 8th taking home $105,823 and Phil Hellmuth in 7th just missing the televised WPT final table making $152,856 for his $25,500 investment. Those remaining will start final table play for 55 minutes with blinds at $50,000/$100,000 and a $10,000 ante. Here are the names of the players for the final table:
David Benyamine -- 4,705,000
David Williams -- 4,700,000
Eric Baldwin -- 4,490,000
Billy Baxter -- 2,440,000
Shawn Buchanan -- 1,965,000
John O'Shea -- 1,200,000
Final Table
Once the final table got underway, John O'Shea wanted to double up quickly before the blinds and antes ate him up alive. He went all-in and was called to his demise. O'Shea revealed a desperate 6 3 which lost to the Ace high hand of Billy Baxter, resulting in a 6th place ending for O'Shea. A 5th place finish happened for Baxter who went to the middle immediately when he received pocket A's. Baxter was called by David Williams and was quickly sent to the rail after Williams made a Broadway straight by the river (A thru 10). It was a long time before the next elimination took place, but after David Benyamine made his all-in move with Q J, he failed to capitalize on the move after Shawn Buchanan paired his 5 card on the flop. Benyamine finished in 4th. But the blinds and antes were rising fast, so not long after Benyamine was gone, Buchanan was on the ropes and made his all-in move with pocket Q's which was called by Williams with pocket 9's. Another 9 came up on the flop and sealed a 3rd place finish for Shawn Buchanan.

Heads up began with Williams having a 3 to 1 chip advantage over Eric Baldwin. Williams was able to maintain the lead and improve it with a few blinds he received. On the final hand, Baldwin went all-in preflop with A 5 and was called by Williams with pocket 2's. Everyoone was on their feet as the dealer laid down the cards. What hit the felt was A 7 6 2 4, which graced David Williams with a set of 2's and the title of WPT Champion for Season 8!

On a side note, this gave a well deserved crown to a player who has made 4 WPT final table appearances. The money he has won pushes his career winning to just under 8 million dollars.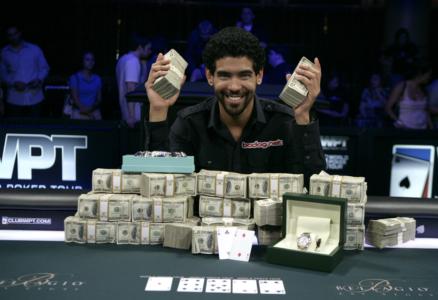 2010 WPT Champion David Williams
David Williams -- $1,530,537 and a $25,500 Seat to WPT Championship in 2011
Eric Baldwin -- 1,034,715
Shawn Buchanan -- 587,906
David Benyamine -- 329,228
Billy Baxter -- 246,921
John O'Shea -- 199,888