Home
Online Casino Real Money
World Poker Tour
Season 8 Reports
WPT Archives
2010 World Series of Poker
WSOP Archives
Poker on TV



L.A. Poker Classic WPT Season 8
Bellagio Cup V | Legends of Poker | Borgata Poker Open | Festa Al Lago
Foxwoods World Poker Finals | Doyle Brunson Five Diamond World Poker Classic
Beau Rivage Championships L.A. Poker Classic Bay 101 Shootout Star Championship
Hollywood Poker Open World Poker Tour Championships
Commerce Casino
Commerce, CA
February 20 - 25, 2010
Day 1
The first day saw 745 players pay the $10,000 entry fee to play 5 levels of No Limit Hold'Em. By the end of the day there were 486 that survived. Some of the names of the fallen include Fabrice Soulier, Scott Clements, Mike Matusow, Mike Brady, Theo Tran, Jimmy Tran, Paul Darden, Michael Mizrachi, Carter King and Justin Smith.

One great play for Hasan Habib took place when Js 9h 3h Kd hit the table, inspiring one player to move all-in of which Habib called. The other player turned over J 10 of hearts and Habib showed K 5 of hearts. The river card was 3d which resulted in a bust and a double up for Habib that raised his stack up to 52,000 for the night. The lucky winner of this tournament will take home over $1.7 million dollars, with cash going to the top 72 finishers. The payout schedule for the final table is below:
Jon Luu -- 140,000 chips
Shawn Buchanan -- 75,000 chips
Lisa Hamilton -- 72,000 chips
Jimmy Fricke - 70,000 chips
Jon Turner -- 55,000 chips
J.C. Tran -- 55,000 chips
Payout Schedule for final table:
$1,788,001
$1,002,710
$665,136
$450.576
$321,840
$246,744
Day 2
After another five levels, there were 195 remaining in the field. Among those no longer in the tournament are Yevgeniv Timoshenko, Chris McCormack, Joe Hachem, Nam Le, Erik Seidel, Gavin Smith, Brett Jungblutt, Kathy Liebert, Phil Hellmuth Jr., Freddy Deeb, Chris Ferguson, Eric Baldwin and Benjamin Zamani.

Still in the running are Mark Seif wih 125,000 chips, Carlos Mortensen with 140,000, Chau Giang with 21,800, Tom Schneider 21,600, Hoyt Corkins 33,600, Chris Bjorin 27,600, Barry Greenstein 44,600, Paul Wasicka 45,700, Jennifer Tilly 44,000, David Singer 84,000, Jason Mercier 77,600 and Robert Mizrachi 104,600. Action will continue again tomorrow at 12 noon.
Daniel Negreanu -- 319,000
Eugene Katchalov -- 290,000
Vanessa Rousso -- 205,000
Lisa Hamilton -- 180,000
Masa Kagawa -- 169,000
Shawn Buchanan -- 165,000
Day 3
Day 3 began with blinds at $600/$1,200 with a $200 ante. From the looks of things the money will be reached today. One of the early busts today was Allen Cunningham when he moved all-in with pocket Q's and was called by Kenny Nguyen with A K. Another King came on the flop and Cunningham hit the rail. Todd Brunson said adios after he met the pocket K's of Daniel Negreanu. Hasan Habib was eliminated when David Baker made a flush on the river card. Jason Mercier walked away from the tables when his pocket 9's met the set of Aces made by his opponent on the river card. They were followed by Tony Cousineau, Steve Zolotow, Jennifer Tilly, Mark Seif, J.J. Liu, Paul Wasicka, Eric Hershler, Mickey Mills, John Cernuto, Gavin Griffin, Barry Greenstein and David Singer.

Play ended when there were 72 left in the field. The bubble boy was Thomas Fuller who had his A K meet up with pocket A's preflop with the board not helping either player. Some that are still in the running are Vanessa Rousso with 46,000, Vivek Rajkumar 157,500, Hoyt Corkins 206,500, Johnny Chan 218,000, Daniel Negreanu 222,500 and Annie Duke 321,000.
Mark Newhouse -- 498,000 chips
Chris Moore -- 489,000 chips
Masa Kagawa -- 432,000 chips
John Cautela -- 417,000 chips
Shawn Pilot -- 400,500 chips
Millad Jorshani -- 386,000 chips
Day 4
Day 4 began at level 16 with blinds at $1,500/$3,000 and a ante of $500 for about 30 minutes. One of the first to go was David Baker as he lost the race against pocket 3's with his A 6. Hoyt Corkins also walked to the rail shortly after losing most of his chip in a losing bout with Johnny Chan. In an earlier hand, Chan and Corkins raised and reraised preflop until Corkins moved all-in with pocket K's and was immediately called by Chan holding pocket A's. The board helped no one and Corkins fell to 62,000 and Chan moved up to 450K. Following these players were Robert Mizrachi, Daniel Negreanu, Jon Turner, Eugene Katchalov, Vanessa Rousso and Brett Richey.

But there were some players who were hot, with five ending the day with over 1 million in chips. Some of the 22 players moving on to Day 5 include Annie Duke 241,000, Danny Fuhs 379,000 and Steve Sung having 671,000 chips in his pile. Here are the top 6 with chip counts:
Carlos Mortensen -- 1,669,000
Mark Newhouse -- 1,308,000
Raymond Dolan -- 1,229,000
Masa Kagawa -- 1,129,000
Andreas Koroknai -- 1,002,000
Tri Huynh -- 942,000
Day 5
The 22 survivors began day 5 with blinds at $6,000/$12,000 and a $2,000 ante, and the eliminations commenced. Dan Martin went out in 21st plsce after losing to the two pair (9's and 2's) belonging to Gevork Kasabyan. Daniel Fuhs busted in 20th after his pocket 9's weere beaten down by the set of Aces made by Raymond Dolan. Annie Duke picked up the cash for 19th place after her bid with A 8 could not overcome the pocket 4's of Tim Begley.

During level 24 play with blinds at $9,000/$18,000 and $3,000 ante, gone were Jamie Brown in 14th, Mark Newhouse in 13th and Johnny Chan in 12th. At level 25, the last woman standing, Mary Lou Morelli, finished in 11th after an all-in move with A K was called by Tim Begley holding pocket 10's and failed to work in her favor. At level 28 gone from the event was Carlos Mortensen when his all-in move with A 4 suited was halted by the pocket 10's of Jim Casement, resulting in a 9th place finish for Mortensen. The last 6 will begin play at level 30 with blinds at $30,000/$60,000 and a ante of $10,000.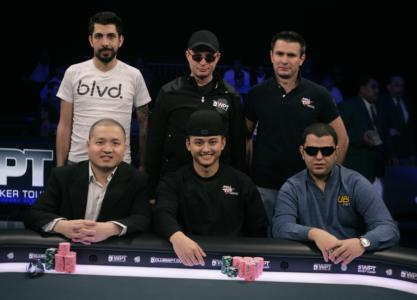 From left to right, top then bottom:
Jean-Claude Moussa, Gevork Kasabyan, Andreas Koroknai, Tri Huynh, Raymond Dolan and Michael Kamran
Andreas Koroknai -- 4,995,000
Raymond Dolan -- 3,300,000
Tri Huynh -- 2,565,000
Gevork Kasabyan -- 2,000,000
Jean-Claude Moussa -- 1,360,000
Michael Kamran -- 680,000
Final Table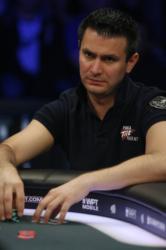 L.A. Poker Classic Champion Andreas Koroknai
Andreas Koroknai -- $1,788,001
Raymond Dolan -- $1,002,710
Tri Huynh -- $665,136
Gevork Kasabyan -- $450.576
Jean-Claude Moussa -- $321,840
Michael Kamran -- $246,744