Home
Online Casino Real Money
World Poker Tour
Season 8 Reports
WPT Archives
2010 World Series of Poker
WSOP Archives
Poker on TV


Beau Rivage Southern Poker Championship
WPT Season 8
Bellagio Cup V | Legends of Poker | Borgata Poker Open | Festa Al Lago
Foxwoods World Poker Finals | Doyle Brunson Five Diamond World Poker Classic
Beau Rivage Championships L.A. Poker Classic Bay 101 Shootout Star Championship
Hollywood Poker Open World Poker Tour Championships

Southern Poker Championship
January 24 - 27, 2010


For player bios, click on player's name and then 'Our Team' tab

Day 1

A grand total of 208 players came to the tables for this WPT event. With a $10,000 buy in, a pool of $1,930,000 was created going to the top 18 finishers. Day 1 saw the field drop to 106 players after six levels of action. Poker phenomenon Dwyte Pilgrim became the chip leader in a field that included Gavin Smith, Hoyt Corkins, Shannon Shorr, John Cernuto, Jeff Madsen, Jason Mercier, Nick Binger, Bill Edler, Jimmy Tran, James Van Alstyne and Thayer Rassmussen. Here are the payouts for the final table:
$713,986
$366,643
$196,829
$135,079
$106,134
$86,837
Top 6 for Day 1 With Chip Counts



Dwyte Pilgrim
Dwyte Pilgrim -- 175,000
Johnathan Little -- 152,100
Hoyt Corkins -- 115,000
Dan O'Brian -- 114,000
Tommy Vedes -- 110,000
James Mackey -- 108,000
Day 2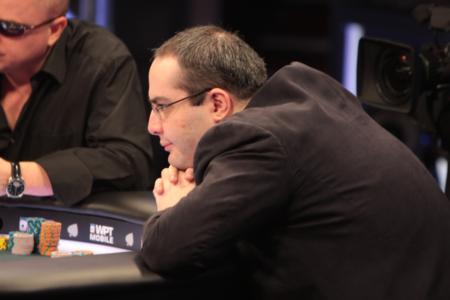 Day 2 Chip Leader Jared Jaffee

Action continued until there were 27 left at the tables.

Among the eliminations are Michael Binger, Nick Schulman, Josh Arieh, Chad Brown, Daniel Negreanu, Allen Kessler, Matt Stout, Blair Hinkle and Joe Tehan.
Jared Jaffee -- 546,000
Tyler Smith -- 462,500
Johnathan Kantor -- 412,500
James Mackey -- 380,000
Tommy Vedes -- 336,500
Ryan D'Angelo -- 304,500
Day 3
Of the 27 that were left at the tables, only 18 saw return on their investment. Top players who busted without seeing any money were Dwyte Pilgrim, Kathy Liebert and Ryan D'Angelo. Pro player Tommy Vedes cashed out in 17th place, earning $15,438 for his efforts. James Mackey and Justin Smith went to the cashier's cage to pick up the winnings for 14th and 13th respectively, each paying $19,297. Ayaz Mahmood left the table in 11th for a $25,086 payday and J.J. Liu just missed the final table in 8th, taking home $48,243. Here are the final table players: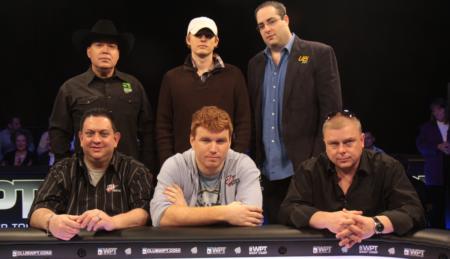 Final table players. From left to right
Hoyt Corkins, Tyler Smith, Jared Jaffee, Jonathan Kantor, Jerry VanStrydonck, James Reed
Hoyt Corkins -- 2,069,000
Tyler Smith -- 1,169,000
Jerry Vanstrydonck -- 1,044,000
Jonathan Kantor -- 894,000
Jared Jaffee -- 762,000
James Reed -- 377,000
Final Table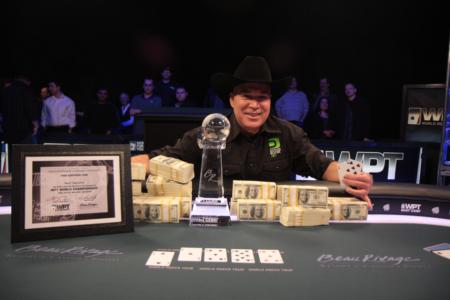 WPT Southern Poker Championship Winner
Hoyt Corkins
Hoyt Corkins -- $713,986
Jonathan Kantor -- $366,643
Jerry Vanstrydonck -- $196,829
Jared Jaffee -- $135,079
James Reed -- $106,134
Tyler Smith -- $86,837